For kicks, I created a list of people who I'd love to see giving the awards at the 2012 Olympic Trials. Some of these people might have presented at previous events, and some might be passed away for all I know. But what a thrill for people like me to see these heroes one more time (or for the first time). And these people deserve some recognition for paving the way.
Anyone that I know attended the 2008 Trials is marked with an asterisk.
Here we go:
Head Coach:
Ed Temple
, the legend from Tennessee State. His teams won more championship medals than most countries. Mae Faggs, Willye White, Wilma Rudolph, Madeline Manning, Wyomia Tyus, Edith McGuire, Martha Watson, et al....In a race between San Jose State and his Tigerbelles, it's too close to call.
100m:
Lindy Remigino
, 1952 Olympic Champion in a huge upset, and was admittedly the third best American sprinter.
Stan Floyd*,
1980 Olympic Trials winner. I heard he won the Trials in a time that would have won the Olympic Gold by 2 meters.
Mel Pender
, twice an Olympian and 1968 4x100 Gold Medal. In 1964, he tore cartilage in his chest during the semi, but ran the final regardless. That's iron.
Jim Hines
, 1968 Gold Medal and WR.
Evelyn Ashford;
won bunches of medals in the 1980s and was smooth like butter.
Lucky Lindy
Evelyn Ashford
110HH:
Harrison 'Bones' Dillard
. Missed out on his specialty in 1948, so he took the 100m instead! Nice to have a backup race. Then he took the hurdles in 1952, along with the sprint relay both times.
Harrison Dillard

Renaldo Nehemiah, 1980 Olympic Trials winner, WR holder, and first to run under 13 seconds. Graduate of Scotch Plains-Fanwood High in NJ, right down the road from me in Somerville; my sister saw him run the 300IH in high school, and said he pretty much walked the last 50 yards while winning by a furlong.

100HH: Gail Devers. Missed a shot in two Olympiads, but made up for it by reading Dillard's 'Book of Contingency Plans' and won back to back 100m sprint Golds plus a relay. Stephanie Hightower*, 1980 Olympian and current USATF President. She recently married Ian Stewart, the guy who ran down Pre for the 1972 5000m bronze medal. Way to keep it in the family!
200m:
Bobby Joe Morrow
. He won both sprints and the 4x100 in 1956 at Melbourne.
Valerie Brisco
, 3 Gold Medals in 1984 at Los Angeles.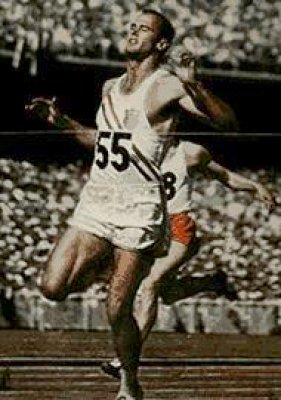 Bobby Joe Morrow
400m:
Lee Evans
. When the kids in my neighborhood were memorizing Joe Namath's completion percentage, the number I cared about was 43.86, Evans's 1968 world record time that stood for 20 years. He was a key figure in the Olympic Project for Human Rights, and he tells the story with the conviction of the man whom history determined to be absolutely right (see
Black Power Salute
). He raced like a runaway diesel going downhill, just pure power.
Otis Davis
, 1960 Gold Medalist and UO hometown hero.
Fred Newhouse*
, 1976 400m Silver Medalist and 4x400m Gold Medalist.
Jearl Miles-Clark
, gutsy anchor leg on 1996 4x400 Gold Medal relay team.
Larry James, Lee Evans, Ron Freeman
Note: I had the absolute privilege of meeting Mr. Newhouse at 2010 NCAA's (I'm a new official and he's one of the national officiating kahunas). What a thrill!! I told him I was convinced that Juantoreana (400 gold) was on the juice, and that I know who really won that race; nobody weighing 190 pounds runs a 1:43 half mile without pharmacological help. Then I rattled off the names of Fred's three relay teammates from a 34 yr old memory; only missed one, but begged forgiveness by saying I was 11 years old at the time. He was impressed, before he admonished me for revealing his age. He burned a 43.8 anchor leg in Montreal, and second place was in a different time zone by race end.
400IH:
Kevin Young,
1992 Gold Medal. Long, looooonnnng stride. He nearly smashed the last hurdle in half but somehow kept his balance. The camera showed him slowly breaking into a knowing grin, then raising his arm in triumph about 15 yards before the line. Yet he still broke the WR by several yards, and his record has outlasted all others.
800m:
Tom Courtney
, 1956 Gold Medalist. He made a huge push on the last turn to take the lead, then got passed. No one has two sprints in the last 150 meters, but he reached deep and won.
Dave Wottle,
1972 Gold Medalist. Watch his
Munich victory
, just stunning. 15 meters back on the first lap and still pulled it out. He ran perfectly even splits while everyone else developed rigor mortis.
Madeline Manning Jackson,
1968 Gold Medal on top of an incredibly long career.
Tom Courtney
Dave Wottle, the "Cat in the Hat"
1500m:
Dyrol Burleson and Jim Grelle*,
Olympians from the University of Oregon. They raised the roof at Hayward Field many times.
Mary Slaney*,
runner from another planet. If you want chills, watch the replays of her
1500/3000 double at the 1983 World Championships in Helsinki.
In both races, she was tag-teamed, jostled, elbowed, cut off, and basically mugged. Regardless, she took both races at the wire with ridiculously gutty sprints. I think she ate nails for breakfast that week.
5000m:
Bob Schul
, 1964 Gold Medal. There is a famous photo of him crossing the finish line in Tokyo with a huge grin on his face. As a kid, I remember looking at that picture and wondering how someone could be laughing after such a hard race.
Sub-39 second final 300 meters
on a cinder track in the rain over 46 years ago. Mind boggling.
Bill Dellinger*,
1964 Bronze Medal. Nearly stole the race with 600m to go, and later became legendary coach at UO.
Lou Zamperini
, 1936 Olympian at 5000m and WWII Prisoner of War; read his amazing autobiography, "
Devil at My Heels
," and
"Unbroken,"
his new biography by the author of "Seabiscuit."
Doris Brown Heritage,
WR holder and women's running pioneer.
10000m:
Gerry Lindgren,
an Olympian while still in high school. He ran huge mileage (200 mile weeks) for the same reason many of us run; to get away, even if we eventually have to come back.
Billy Mills,
1964 Gold Medal.
His amazing finish
is best described by the word "gallop."
Lynn Jennings,
1992 Bronze Medal in Barcelona.
Sidebar: 1964 was the only time we won the 5,000 or 10,000, and we got 'em both in the same track meet. What was in the drinking water that year?
Marathon:
Frank Shorter
. Brought running to the masses after Bill Bowerman started the movement.
Kenny Moore*,
twice an Olympian, 4th in Munich, and the best track writer ever.
Joan Benoit Samuelson:
first Olympic Gold Medalist, scary fast, and still breaking legs on the road (others, not her own).
Note: my wife's uncle Jeff Shelley, an incredible
golf writer
, was a 1972 Army MP in Germany. He was outside the Olympic Stadium at the end of the marathon when Mr. Shorter came gliding by. Around the same time, that turkey German imposter was circling the track as a bogus runner. The spectators were jeering loudly, and Jeff said it sounded like it was directed at Shorter, who had just the strangest look on his face. As in, "what the heck?"
Steeplechase:
Horace Ashenfelter
, 1952 Gold Medalist and FBI agent. Trained by jumping park benches in NYC.
FBI Agent runs away from Communist
Combined Events:
Milt Campbell
, 1956 Gold Medalist. Also lived down Rt 22 from me in NJ. Hellacious hurdler, too.
Jane Fredericks,
two-time Olympian and WR holder.
Long Jump:
Ralph Boston,
Gold/Silver/Bronze winner. Another key member of the OPHR. And the guy who taught Bob Beamon how to convert 8.90 meters into something understandable.
Martha Watson
, 4-time Olympian, Pan Am Games Gold Medalist, and legendary Tennessee State Tigerbelle under legendary coach Ed Temple. Legendary, I tell you, simply legendary.
Some other guy with Ralph Boston
Pole Vault:
Don "Tarzan" Bragg
, 1960 Gold Medalist. If you never heard of him, his nickname says it all. An absolute original. Yet another Jersey boy; please forgive the home state bias that's clearly evident in the list. Here's a great
article
from Sports Illustrated; how do you not like a guy named Tarzan? He was the AD at Stockton State in south Jersey, where he had a guy named Larry James working for him (Larry was a small step behind Lee Evans in 1968).
Stacy Dragila,
first female gold medalist. You gotta be first, you gotta be best, or you gotta be different: she was all three.
Shot Put:
Bill Nieder,
1960 Gold Medalist. He was 4th at the Trials, then added to the team as a late substitute and won in Rome.
Brian Oldfield,
1972 Olympian, TV Superstars Champion, unabashed smoker and wearer of swim trunk-like briefs in competition. According to his website, he once dunked a shot put through a basketball hoop.
Al Feuerbach,
twice an Olympian and a WR holder.
Maren Seidler,
4-time Olympian and AR holder.
Brian Oldfield
Speaking of bizarre athletic achievements, Steve Scott* (he of the 136 sub-4 minute miles) once played a full round of golf in 29:30. Not many practice swings there!

Javelin: Al Cantello, 1960 Olympian, WR holder, and currently in his 48th year coaching at the US Naval Academy. Kate Schmidt, 2 Bronze Medals and WR holder.

High Jump: John Thomas, 1960 Bronze Medal and WR holder. Franklin Jacobs, WR holder (and jumped 2' over his own height!). Alice Coachman, 1948 Gold Medalist.
Alice Coachman
All right, that's my list. Completely biased and a wish list, to be sure. But I'm entitled to my opinion once in a while.
In Memoriam: RIP Bud Greenspan. No one captured the sport better.